Pan American Games


Medals table - Pan American Games
Rank - Nation - Gold - Silver - Bronze - Total
1º

United States - 1.651 - 1.207 - 821 - 3.679
2º

Cuba - 722 - 496 - 440 - 1.658
3º

Canada - 309 - 503 - 627 - 1.439
4º

Argentina - 247 - 263 - 330 - 840
5º

Brazil - 187 - 243 - 336 - 766
6º

Mexico - 139 - 193 - 378 - 710
7º

Venezuela - 61 - 133 - 189 - 383
8º

Colombia - 43 - 89 - 149 - 281
9º

Chile - 31 - 65 - 99 - 195
10º

Puerto Rico - 18 - 66 - 101 - 185
11º

Jamaica - 18 - 28 - 58 - 104
12º

Dominican Republic - 13 - 37 - 68 - 118
13º

Uruguay - 11 - 21 - 40 - 72
14º

Ecuador - 9 - 9 - 26 - 44
15º

Trinidad and Tobago - 8 - 16 - 22 - 46
16º

Peru - 5 - 24 - 50 - 79
17º

Guatemala - 5 - 9 - 27 - 41
18º

Bahamas - 4 - 9 - 6 - 19
19º

Costa Rica - 4 - 6 - 10 - 20
20º

Netherlands Antilles - 3 - 9 - 15 - 27
21º

Suriname - 3 - 2 - 5 - 11
22º

Panama - 2 - 19 - 24 - 45
23º

Guyana - 2 - 4 - 10 - 16
24º

Bermuda - 1 - 4 - 3 - 8
25º

Virgin Islands - 0 - 4 - 5 - 9
26º

Barbados - 0 - 3 - 6 - 9
26º

El Salvador - 0 - 3 - 6 - 9
28º

Nicaragua - 0 - 3 - 5 - 8
29º

Haiti - 0 - 2 - 4 - 6
30º

Cayman Islands - 0 - 2 - 0 - 2
31º

Paraguay - 0 - 1 - 5 - 6
32º

Honduras - 0 - 1 - 3 - 4
33º

Bolivia - 0 - 1 - 2 - 3
34º

Grenada - 0 - 1 - 1 - 2
35º

Dominica - 0 - 1 - 0 - 1
36º

Belize - 0 - 0 - 2 - 2
37º

Saint Vincent and the G. - 0 - 0 - 1 - 1
38º

Saint Lucia - 0 - 0 - 1 - 1
40º

Aruba - 0 - 0 - 0 - 0
40º

British Virgin Islands - 0 - 0 - 0 - 0
40º

Saint Kitts and Nevis - 0 - 0 - 0 - 0




Locations - Pan American Games

I - Buenos Aires - 1951
Argentina - February 25 - March 9, 1951

II - Mexico City - 1955
Mexico - March 12 - March 26, 1955

III - Chicago - 1959
United States - August 27 - September 7, 1959

IV - São Paulo - 1963
Brazil - April 20 - May 5, 1963

V - Winnipeg - 1967
Canada - July 23 - August 6, 1967

VI - Cali - 1971
Colombia - July 30 - August 13, 1971

VII - Mexico City - 1975
Mexico - October 12 - October 26, 1975

VIII - San Juan - 1979
Puerto Rico - July 1 - July 15, 1979

IX - Caracas - 1983
Venezuela - August 14 - August 29, 1983

X - Indianapolis - 1987
United States - August 8 - August 23, 1987

XI - Havana - 1991
Cuba - August 2 - August 18, 1991

XII - Mar del Plata - 1995
Argentina - March 12 - March 26, 1995

XIII - Winnipeg - 1999
Canada - July 23 - August 8, 1999

XIV - Santo Domingo - 2003
Dominican Republic - August 1 - August 17, 2003

XV - Rio de Janeiro - 2007
Brazil - July 13 - July 29, 2007

XVI - Guadalajara - 2011
Mexico - TBD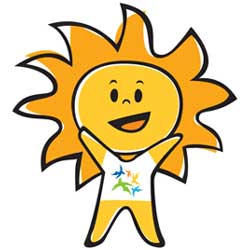 Mascots - Pan American Games
Cauê
the figure of the Sun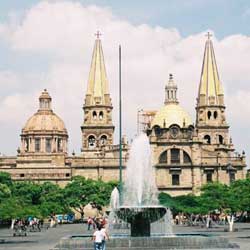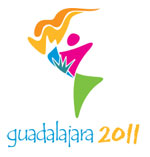 Pan American Games - Guadalajara 2011
The 16th Pan American Games are to take place in 2011, in the mexican city of Guadalajara, Jalisco. The Pan American Games are a multi-sport event, held every four years between competitors from all nations of the Americas.



Pan American Games - Rio de Janeiro 2007
XV Pan American Games
Rio de Janeiro, Brazil
12 July to 29 July
5,500 athletes
42 countries in 28 sports



Countries - 2007 Pan American Games

Argentina


Aruba

Bahamas

Barbados


Belize

Bermuda

Bolivia


Brazil

British Virgin Islands


Canada

Cayman Islands


Chile

Colombia

Costa Rica


Cuba

Dominica


Dominican Republic

Ecuador


El Salvador

Grenada


Guatemala

Guyana

Haiti


Honduras

Jamaica

Mexico


Netherlands Antilles

Nicaragua


Panama

Paraguay

Peru


Puerto Rico

Saint Kitts and Nevis


S. Lucia

S. Vincent and the G.


Suriname

Trinidad and Tobago


United States

Virgin Islands


Uruguay

Venezuela




Sports - 2007 Pan American Games
Events: 332 events
Sports: 38
Sports for men: 178
Sports for women: 142
Sports mixed or open: 12

Sports - 2007 Pan American Games:
• Archery
• Artistic Gymnastics
• Athletics
• Badminton
• Baseball
• Basketball
• Beach Volleyball
• Bowling
• Boxing
• Canoe Racing
• Cycling
• Diving
• Equestrian
• Fencing
• Field Hockey
• Football
• Futsal
• Handball
• Judo
• Karate
• Modern Pentathlon
• Rhythmic Gymnastics
• Roller Skating Artistics
• Roller Skating Speed
• Rowing
• Sailing
• Shooting
• Softball
• Squash
• Swimming
• Synchronized Swimming
• Table Tennis
• Taekwondo
• Tennis
• Trampoline Gymnastics
• Triathlon
• Volleyball
• Water Polo
• Water Ski
• Weightlifting
• Wrestling




III Parapan American Games - Rio de Janeiro 2007
The Parapan American Games Rio 2007 will be held between August 12 and 19, 2007 in Rio de Janeiro, Brazil. Around 1,300 athletes and 700 members of delegations are expected to take part in 10 different sports. For the first time the Parapan American Games will take place immediately after and in the same city of the Pan American Games.

Locations - Parapan American Games
I Parapan American Games
Mexico City - Mexico
1999

II Parapan American Games
Mar del Plata - Argentina
2003

III Parapan American Games
Rio de Janeiro - Brazil
2007